Adventurer of the Month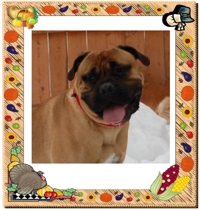 Crixus
At Canine Adventure we sometimes feel as though we are surrounded by a bunch of silly turkeys. Crixus, a 2 year old Bullmastiff is a big turkey. Crixus enjoys running around with the big dogs, wrestling with Joy, and chasing the hose water. At times he is having so much fun he forgets we are in the room and runs into us. Silly dog/turkey!
Welcome to Canine Adventure!
Since 2008, Canine Adventure, LLC has been providing quality dog daycare for large and small breeds. With over 25 years combined animal experience we know what dogs really want. They want to have fun socializing in a safe, caring, and enriching environment.

Dog daycare at Canine Adventure, LLC provides your pup with the additional mental stimulation and excercise they need which a lonely day at home does not. Proper excercise and stimulation curb unwanted behaviors at home. At Canine Adventure, dogs spend the day interacting off-leash in a safe environment with other pups and caring people. When you pick your pup up in the evening, they will be ready to relax with you at home after a day of fun.